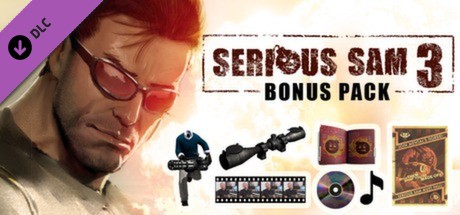 Serious Sam 3 Bonus Content DLC WINDOWS, MAC, LINUX
Информация
Совместимость
WINDOWS, MAC, LINUX
Цены в других в регионах
Информация о ценах в других регионах доступна только
авторизированным
пользователям.
График скидок
Посмотри график скидок на Serious Sam 3 Bonus Content DLC в которые проводились ранее или актуальны сейчас. Узнай размер скидки на Serious Sam 3 Bonus Content DLC в , действительно ли ты сэкономишь или продавец завысил цену. Цена на Serious Sam 3 Bonus Content DLC может меняться в зависимости от сезона, график скидок покажет какие и когда были изменения. Еще с помощью с помощью графика можно понять и спрогнозировать размер следующей скидки на приблизительный период времени.
Информация о
скидке на Serious Sam 3 Bonus Content DLC для WINDOWS, MAC, LINUX
в официальном магазине пока не доступна. Приложение добавлено на сайт 01.10.2020, с этого времени цена на данное приложение еще не менялась.
Официальное описание
Purchase the Bonus Pack and receive the following extras (available for PC, Mac and linux) for Serious Sam 3: BFE:Original Soundtrack* - Collection of 40 amazing soundtracks, specially composed by Damjan Mravunac and Undercode, spanning the entire Serious Sam 3 experience! Brett Sanderson Headless Kamikaze - Timed Exclusive Item: Bonus Multiplayer Character! Play as Brett Sanderson Headless Kamikaze, a headless man who decided to volunteer to be a Beheaded Kamikaze, because he wanted a lot more excitement in his life, and nothing is more exciting that running around without a head with bombs in your hands! Sniper Scope - Timed Exclusive DLC: Bonus In-game Weapon Upgrade! Use sniper scope for the powerful AS-24 quot;Devastatorquot; Weapon! Documentary Video** - Making-Of Serious Sam 3: BFE video featuring behind-the-scenes footage and exclusive developer interviews with Croteam members. This documentary takes a look at how the game was made, going all the way back to the roots of this award-winning Serious Sam series that took the world by surprise in 2001. Digital Artbook*** - The digital art book contains 42 pages of stunning full color artwork from a famous comic book artist Stjepan Sejic (a.k.a. Nebezial and Shienez on devianART), famous for his illustration work on Witchblade and now on his own comic books Ravine and Sunstone! Box Art*** - Includes DVD label and DVD sleeve (front and back), so you can create your own retail Serious Sam 3 DVD box! Posters - Featuring 5 high-res images of Serious Sam, Scythian Witch-Harpy, Scrapjack and Witch-Bride of Achriman, and all created by Sejic! Videos*** - Collection of high-res promotional Serious Sam 3: BFE trailers and videos, including official Serious Sam 3: BFE Trailer, Help-Line Videos and more.* All songs are presented in AAC, FLAC and WMA formats and placed in your Serious Sam 3 folder in the Steam Directory: ...SteamsteamappscommonSerious Sam 3 Serious Digital Edition Bonus (Soundtrack_Aac, Soundtrack_Flac and Soundtrack_Wma)** This item is only available in Croatian audio with English sub-titles*** These items are only available in English
Отзывы к Serious Sam 3 Bonus Content DLC
Комментировать
Похожее
---
Использование информации Applook.ru разрешается только с указанием ссылки на источник информации. Возможно использование
REST API
© 2020 Applook.