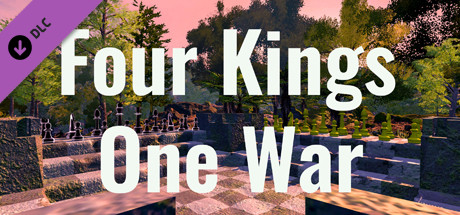 Four Kings One War – Virtual Reality WINDOWS, MAC
Информация
Совместимость
WINDOWS, MAC
Цены в других в регионах
Информация о ценах в других регионах доступна только
авторизированным
пользователям.
График скидок
Посмотри график скидок на Four Kings One War – Virtual Reality в которые проводились ранее или актуальны сейчас. Узнай размер скидки на Four Kings One War – Virtual Reality в , действительно ли ты сэкономишь или продавец завысил цену. Цена на Four Kings One War – Virtual Reality может меняться в зависимости от сезона, график скидок покажет какие и когда были изменения. Еще с помощью с помощью графика можно понять и спрогнозировать размер следующей скидки на приблизительный период времени.
11.08.2020
4.99 ₽ новая стоимость. Бесплатно
Официальное описание
THIS DLC REQUIRES EITHER A HTC VIVE OR OCLUS RIFT Four Kings One War is a one or two player strategy game inspired by chess. Each player controls TWO armies as though they were one and gets TWO moves per turn. This opens up guerrilla style tactics and hidden attacks and brings the strategy in line with the modern mind. 4 environments to battle in, all set in a stunning New Zealand native bush with the beautiful sounds of native New Zealand bird song. Play in the bush environment on an arena the size of a house where the pieces are the size of an average person. Play by a spectacular waterfall set deep in the New Zealand bush. Listen to running water and amazing bird song while you focus through battle. Play in an underground abyss Hone your skills and play the AI in all locations including an stunning New Zealand inspired glow worm cave. Single player against the AI on easy, medium, hard or extreme Multiplayer against another human as well as start to build your own ranking. Four Kings One War is a strategy game designed to suit the modern mind. We believe that just as military strategy has become more complex and strategic over the years, so too should the strategy games we enjoy. We no longer stand face to face in the field of battle. Instead we look for blind-side manoeuvres and guerrilla-styled tactics to baffle our opponents. This is the promise of Four Kings One War. If you fancy yourself as a strategist then this is as pure as it can get. The battle arena is uncharted and awaiting new champions to be crowned. Make your mark as a strategist today and join an ever growing community of modern strategic warriors. Virtual Reality version also compatible with PC and Mac and can be played across all platforms
Отзывы к Four Kings One War – Virtual Reality
Комментировать
Похожее
---
Использование информации Applook.ru разрешается только с указанием ссылки на источник информации. Возможно использование
REST API
© 2020 Applook.